Hydraulic Safety Shutdown System
Oil & Gas | Industrial Process Control
Over the years Argus Systems has built competencies in the Hydraulic Safety Shutdown System domain acquiring in-depth knowledge and expertise, creating intellectual property, re-usable platforms, and solutions. We have integrated hardware, software, and system design services to provide our customers with valuable solutions in Power & Energy Industry domains. Argus Systems believes in "First time Right solution" and with an experienced Product Engineering team, we can be your complete electronic product design and development partner.
Hydraulic Safety Shutdown System Oil Gas Industries
Hydraulic Safety Shutdown System is designed and developed in Argus systems. Self-supported, compact, safe, and reliable alarm and shutdown system for Oil and gas industry, which detect abnormal conditions on a production process and initiate a shutdown if any of the reading shows the operation is no longer within the pre-set safety margins. Abnormal Conditions are indicated by indicator lamps, each associated with a label indicating the condition detected. This Low cost, Easy to Install, and maintenance system has been built to withstand the adverse conditions of the oil-field environment and provides a straightforward interface with the operator. Connects to external sensors/ gauge to indicates for the operator to know the cause of the shutdown.
Monitored parameters are:

Pressure [High Pressure & Low-Pressure sensing from 60 to20,000 psi]
System Battery Level sensors
Emergency shutdown command from SCADA/RTU system

Functional Specifications

The gauges indicate the actual reading and set-points and indicator lamps indicate the status of sensors and alarms which helps the operator in instantly knowing the conditions of the process. A green LED shows that the system is operating without problems. System Normally operates with open contact and closure of contact indicates that an alarm is present. Abnormal conditions are signaled by indicator lamps each associated with a label indicating the fault condition detection and shutdown process is initiated by the system.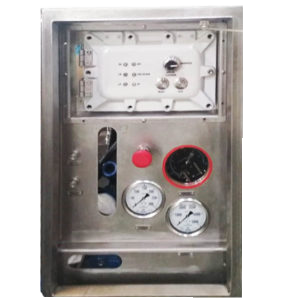 Argus Systems is a globally recognized Electronic Product Design and Electronic manufacturing company with Its Operations in India, USA, UK, Australia offering products and solutions for the Hydraulic Safety Shutdown System sector such as SCADA, RTU, Safety shutdown systems.