Signal Integrity Analysis

Power Integrity Analysis

EMI Analysis

Thermal Analysis

Thermal Analysis
Argus is one of leading PCB and system-level design and analysis Services Company offering SI analysis, Thermal Analysis, Power Integrity Analysis, Crosstalk analysis, EMI Analysis, Reliability availability and maintainability analysis for applications like Space, Avionics, Telecom, Industrial, Medical, Computing and Automotive.
A growing number of companies are experiencing a sharp upturn in system-level Signal Integrity, Thermal and Reliability issues that result in project delays and increased cost. Many companies do not have in-house expertise and the companies that do have the expertise may experience peak overloads that require periodic outsourcing. Argus quick turn design analysis services addresses needs of these customers by providing expert resources at very affordable prices.
Signal Integrity Analysis and Signal Integrity Simulation
Pre-Route and post-route Signal integrity Analysis
Reflection Waveform Analysis
Cross Talk Analysis
Propagation delay and timing analysis
Eye Diagram Analysis
Library and model Development
IBIS Model Creation
IBIS Model validation
Pre Layout Signal Integrity Check
Placement optimization, Trace length constraints
Impedance requirement.
Topology and termination strategies.
Post Layout Signal Integrity check
Verification by extraction of actual PWD parasitic.
Placement optimization based on signal flow & trace length requirement of the specific interface.
Layer stack up recommendation.
Reflections analysis and determination of termination scheme.
Generation of layout constraints & guidelines.
Delay & Timing determination.
Crosstalk level estimation.
Eye diagram analysis.
Power Integrity Analysis
DC Drop Analysis
Modeling Power Plane structures to validate DC drop in power supply rails due to copper losses.
Output available in the form of report indicating current flow and voltage at each power pins of circuit devices.
3D Plots generation representing voltage distribution through the power planes.
Decoupling Analysis
Analyzing impedance of power distribution network at multiple board locations and suggesting proper decoupling schemes.
Stackup suggestions for proper board decoupling.
DC Noise Analysis
Simulation of plane noise due to improper decoupling schemes.
EMI Analysis
Radiated Emissions Analysis.
Near Filed, Far Filed Emissions
Board level radiated emissions
net level radiated emissions.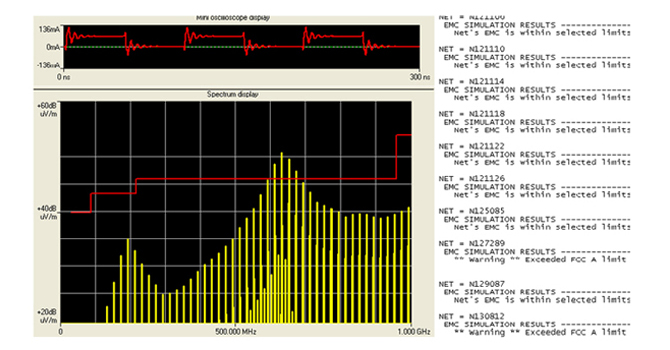 Thermal Analysis
Board Level Thermal Design, simulation and analysis.
PCB data import through IDF files available form all EDA tools.
Component Junction and case temperature computation.
Thermal profiles generation for components and PCB
Can evaluate boards of applications like Space, Avionic, Telecom, Industrial, Computer, Instrumentation, Automotive and Power supplies.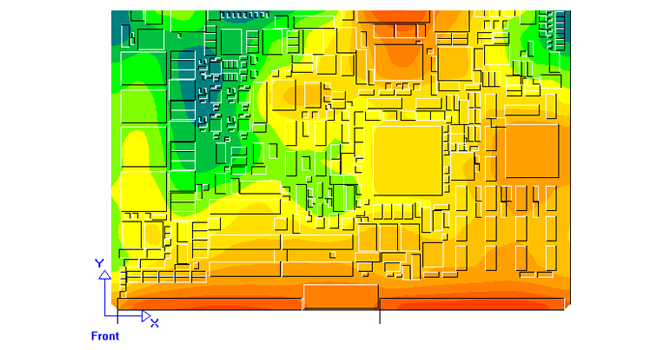 Reliability analysis
System Reliability analysis.
System availability analysis.
System maintainability analysis.
Failure mode, effects and criticality analysis (FMECA )as per MIL-STD-1629A.
Uses Reliability diagram, Fault tree analysis and applicable standard models.
Failure rates and MTBF Analysis based on MIL-217 models.
Reliability prediction as per Telcordia/Bellcore (TR-332/SR-332) models.
Reliability Prediction as per IEC62380 models.